*Dine-in only. Available 4-10 PM

$5 Burger Sunday
8 oz. Angus beef burger, topped with lettuce and tomato. Served with house chips and a pickle for $5.
Lobster Monday
A full pound-and-a-half lobster steamed fresh to order. Accompanied by a baked potato, corn on the cob and an entrée salad. Reservations strongly encouraged. $22.95
(*unless market dictates otherwise)
Slow Roasted Prime Rib Tuesday
Angus Prime rib slow roasted and served to order with a baked potato and hot au jus.
12 oz. Queen Cut $16.95 16 oz. King Cut $19.95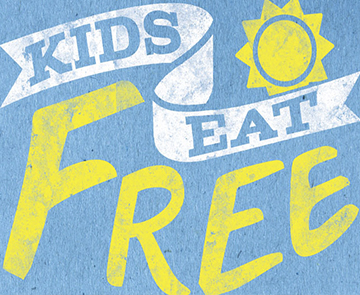 Kids Eat Free Wednesday
Buy one adult entree, get one kids meal for free! Kids 10 and younger.
Taco Thursday
Enjoy a la carte street tacos and sides for just $2.75 each, single margaritas for $3.95, and margarita carafes for $14.95. Combination offers available, too. View our full menu here.